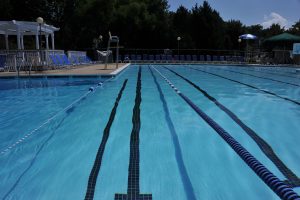 General Information
The HCRA Board has approved the following registration requirements and process for the 2020 Pool Season, in order to help manage access to the pool.  Please follow the directions below and we look forward to having you at the pool.
If you need to pay your dues or pay late fees, please visit the Cardinal Management website at Make-A-Payment.
Please read the Supplemental Pool Rules regarding the processes, procedures, and expectations of our pool patrons during the 2020 Summer Season.
Please NO walk-ins are allowed.  ALL pool patrons (adults and children) must have completed the Release Form (see below) to obtain access to the reservation system AND will be required to sign an Acknowledgment Form (see below) upon entry to the pool.
Also, NO guests are permitted during the 2020 Pool Season.
Prior to Coming to the Pool
Please sign a Pool Patron Release Form / Pool Patron (Minor) Release Form for each member of their household. You will not be able to access the reservation system unless you have completed this form and submitted it to Board@hcrafairfax.org.
Restricting pool patron usage numbers by a

SignUp.com

Reservation System which limits the number of patrons during swim sessions. Pool patrons are asked to restrict their use of the pool to two sessions per week/only one reservation per weekend.
Your status must be valid in the CellBadge check-in system. If you need assistance with CellBadge or need to make changes or updates to your member account, please email Board@hcrafairfax.org and we will assist you.
Pool patrons will have to sign and date (the date you swim) a Pool User Acknowledgment form upon entry to the pool house. You may pre-print your form at home and bring it with you to help HCRA save copy costs.
Signup.com Reservation System Instructions
HCRA is using SignUp.com to manage reservations for use of the pool this summer.  You will receive an invitation link to SignUp.com from HCRA after we have received your release forms.  Just a reminder that at present you are limited to one session per day.  Then each Wednesday, a new block of reservations will be opened for the following 7 days.
To make a reservation for yourself – Click the link for SignUp.com in the email invitation that was sent to you.  You will receive an invitation each week as new reservation slots are opened.  You will be redirected to the HCRA Pool Reservation System calendar.  Scroll down to choose your date and time, then click the green "signup" button on the right side.  A new window should open to allow you to enter your name, email, and cell phone number.  If you are coming to the pool by yourself, click "save and done".
To make a reservation for your family members - If you are coming to the pool with other household members (including minor children) you do NOT need to create an account.  Simply login, make a reservation for yourself (one slot), then select the blue "Save and add another person" at the bottom of your reservation entering screen.  On the new screen add the child's name (using your email and phone number) and repeat "Save and add another person", as necessary. You should see the list of family members on the left side of the reservation screen.  When you have entered everyone to the reservation, then click "save and done" to save the reservation.
If you need to cancel or modify a reservation – Please login to the SignUp.com system and you will be able to see your reservations in the calendar.  Simply click the blue "My Spots" on the date and time you need to cancel or modify.  To CANCEL – select the "Remove" option.  To MODIFY, select the "Edit Spot" option.  When you Edit Spot, this will bring you back to the reservation enter page and you can add or delete family members from the reservation.
To find your SignUp invitation and reservations, please click on the link below:
https://signup.com/Find-My-SignUp
A summary of your invitations and reservations in signup.com will be sent to you.  Please check your email to view your invitations.  If you don't see an email from SignUp.com after a few minutes, look in your Junk or Spam email folder.
As spots are limited, we kindly ask if you have a cancellation, that you please cancel in the system thereby opening the spots to allow other homeowners to be able to come to the pool.
PDF FORM INSTRUCTIONS
To access the form, you will need a version of ADOBE Acrobat.  It is installed in most computers, but if not you can download a free version of Acrobat Reader from: https://get.adobe.com/reader/
There are two methods to submit the form:
Electronic (preferred)
Open the form in Acrobat(reader).  Fill out the required fields.  Note that for the date field there is a dropdown arrow at the right side of the field which opens a calendar where you can select a date.  Alternatively, you can type the date in MM/DD/YY format.
To sign the form, click on "fill and sign" on your toolbar.  If not visible, select "tools" and then "Fill and sign".  When you see "who needs to sign" select "you" option.  Above the form, select the "sign" button (has a fountain pen tip and some squiggles), if prompted, type in your name and it will create a signature.  Your signature will appear at your mouse cursor, move the mouse to the signature block and click (placing the signature in the form).
Click the "submit" button, and then choose to use your default email application or webmail if appropriate.  The form will then open an email with the form attached for you to send it to board@hcrafairfax.org.
Alternatively, you can save the form and email it to board@hcrafairfax.org
Note if you have a tablet, you may be able to download the form, fill it out and sign it with a stylus and email the form to board@hcrafairfax.org without using Acrobat reader depending on your tablet.
Manual
Download and print out the forum.
Fill it out manually.
Scan and email your form to board@hcrafairfax.org or deliver it to Board Member Dave Klain at 12753 Ashleigh Court for manual processing.