The POOL
The pool is large and inviting with something for everyone.  It offers swim lanes, a diving board, beach-style entrance, separate kiddie pool, and barbeque picnic areas.  We are also the home of the Chase Club Sharks, the Hampton Chase Swim Team.
The Pool Season runs from Saturday of Memorial Day Weekend to Monday of Labor Day Weekend. The general pool operating hours are:
While school is in session: 
     Monday to Friday - 3:00pm to 9:00pm

    

 Weekends/Holidays - 11:00am to 9:00pm
After school has let out:
     Monday to Friday - 11:00am to 9:00pm

     Weekends/Holidays - 11:00am to 9:00pm
The pool will close for all Chase Club Shark Swim Team home meets, so please check the Events page.  
---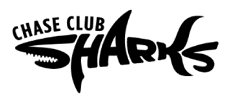 Chase Club Sharks
Calling all Hamptons Athletes!!
Hampton Chase is home to a fantastic swim team, the Chase Club Sharks and we're always on the lookout for new swimmers! If you live in the Hampton Chase / Hampton Forest / Hampton Woods neighborhoods and are a current paid member of the pool, we invite you to be a member of our team. Registration will begin in late April. Be on the lookout for more information closer to that time. If your kids participate in other sports, keep in mind that swimming is a great way to keep young athletes in condition during their off season! For further information, contact Rachel Perry at bijoux4u@gmail.com or check out our guest website: www.chaseclubsharks.com
---
POOL PASSES
Pool Passes
Registration for the online CellBadge portal requires an initial two-step process for first-time users.  Following years, once you have paid your dues for the year, you will only need to access the system to make changes/updates to your family information, if necessary.
Please click the link below to start the registration process.
Click here to register for online pool pass!

If you have any questions or need to see the instruction, please CLICK HERE.
Per the HCRA's Declarations, Hampton Forest addresses in Sections Four through Eleven, are required to pay the HCRA annual assessment fee. If your address is not listed, you are not a member of HCRA, and membership is optional.  A list of all members within HCRA can be found here at HCRA Membership Addresses.
POOL RULES
The Hampton Chase Recreation Association Pool Rules and Regulations were established for the benefit of all Members and their guests. These rules were created by the HCRA Board of Directors to ensure the safe and sanitary operations of the facilities.  All persons utilizing this facility do so at their own risk and assume complete responsibility for themselves, their families, and their guests.  These rules are in compliance with the Swimming Pool Ordinance and Regulations of Fairfax County, Commonwealth of Virginia and all other applicable county, state and federal regulations and statutes.